BCAT provides career opportunities through the arts and workforce development
High School Youth Arts & Technology Programs
Digital, Performing & Fine Arts
From painting and illustrating, to hip-hop and chorus, to producing original videos with Squeaky Wheel, there's a great FREE arts program for every high school student's interest.
Adult Workforce Development
Career-Focused
Upon completion of the Adult Workforce Development program, students are expected to obtain a family-sustaining wage with tremendous opportunities to increase their income and expand their education through acquiring national certification.
The Buffalo Center for Arts & Technology greatly appreciates every investment given by individuals in the community. It takes the community's support to keep this center thriving. See how you can support BCAT. We're currently in need of volunteers! Want to give back through service? You've got a few different options at BCAT. Whether you choose to become a program or classroom assistant, an event volunteer or an academic mentor, your time at BCAT will make a difference.
Limited-Edition, Reusable Tote Bags
This summer, six young BCAT artists set out to help solve a big problem in our community. The group, aware of New York State's efforts to reduce the environmental impact of plastic bags, knew that creating fun, durable and reusable canvas tote bags would help our community and the environment at the same time. The artists worked on designs that are meaningful to them and appealing to the whole community.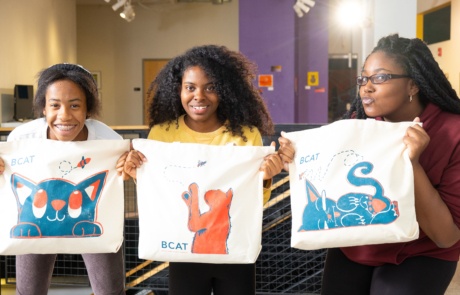 <!– Global site tag (gtag.js) – Google Analytics –>
<script async src="https://www.googletagmanager.com/gtag/js?id=UA-148045615-1″></script>
<script>
window.dataLayer = window.dataLayer || [];
function gtag(){dataLayer.push(arguments);}
gtag('js', new Date());
gtag('config', 'UA-148045615-1');
</script>