From painting and illustrating, to producing original production content, there's a great tuition-free arts and technology program to meet every BPS and charter high school youth's interest. Experience this unique hands-on program that will inspire youth to discover their inner artist, build friendships, and create meaningful relationships that will last well beyond their high school years.
Adult Workforce Development


The BCAT model gives our adult learners the opportunity to not only receive a fee-free training and academic education, but professional development, a dedicated support system, and access to resources needed to be successful in a new career. At BCAT, you will create meaningful relationships, the skills needed to compete in today's workforce, and the power to choose a new path forward.
BCAT greatly appreciates every investment given by individuals in the community. It takes the community's support to keep this center thriving. We have a number of ways you can make a difference for our youth and adults. Whether you choose to become a program or classroom assistant, an event volunteer or an academic mentor, your time at BCAT will make a difference.
Limited-Edition, Reusable Tote Bags
This summer, six young BCAT artists set out to help solve a big problem in our community. The group, aware of New York State's efforts to reduce the environmental impact of plastic bags, knew that creating fun, durable and reusable canvas tote bags would help our community and the environment at the same time. The artists worked on designs that are meaningful to them and appealing to the whole community.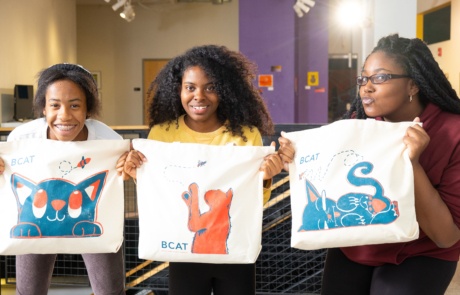 <!– Global site tag (gtag.js) – Google Analytics –>
<script async src="https://www.googletagmanager.com/gtag/js?id=UA-148045615-1″></script>
<script>
window.dataLayer = window.dataLayer || [];
function gtag(){dataLayer.push(arguments);}
gtag('js', new Date());
gtag('config', 'UA-148045615-1');
</script>