Adult learners graduating from the Salesforce Administrator program are ready for entry-level careers in high-demand positions in the information technology field.
Students learn to navigate the Salesforce user interface and configure a billing application on the platform. Students learn how automation, security and reporting functionality work within Salesforce before diving into the two clouds: Sales & Marketing and Support Cloud. At the conclusion of the course, students explore Data Management within Salesforce.
Salesforce Administrator certification can lead to jobs as:
Data analyst
Business analyst
Salesforce Associate
Staff analyst
Highly qualified instructors and NYSEd- approved coursework are part of this 10-week, 120-hour course offered in-person Monday – Thursday from 10:00 am – 1:00 pm.
Accepted Students must take the prerequisite introduction CompTIA IT Fundamentals (ITF+). This course is an introduction to basic IT knowledge and skills. This prerequisite course will take a week to complete before you attend the main class.
The ADM-201 certification exam is included in this course. There are 15 seats available. All accepted adults will receive a scholarship to cover 100% of the cost of tuition, books, labs, study modules, and certification exam fees.
IT Help Desk Support Curriculum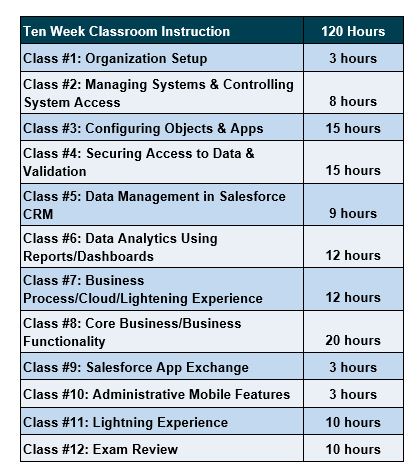 STUDENTS MUST COMPLETE REQUIRED COURSE WORK AND TAKE
THE ADM-201 CERTIFICATION EXAM TO GRADUATE FROM THE PROGRAM.
Fill Out the Pre-Registration Form
and/or Apply In Person at 1221 Main Street
Monday-Thursday
Please bring your ID and high school diploma or HSE/Transcript with you to enroll.
All applicants take a Math and English assessment to enroll in the course.