About the career.
BCAT's Pharmacy Technician – Entry Level program offers adults ages 21 and older the opportunity to gain hands-on experience needed to obtain pharmacy technician employment.
Students will have an opportunity to take a national certification exam offered through the Pharmacy Technician Certification Board (PTCB) or National Healthcareer Association (NHA). BCAT Pharmacy Technician-Entry Level program is a PTCB recognized training program. We follow the best practices of PTCB, NHA and ASHP in the development of our curriculum.
There is no cost to attend this program. BCAT awards every student selected for our workforce development programs with scholarships to cover the cost of tuition and books.  A limited number of students will be accepted for each session.
What you will learn.
This is an intensive accelerated program that prepares students for jobs within the pharmacy industry. This program is 17 weeks of classroom instruction. Classes are Monday-Thursday from 9-3:00 pm. 
Medical terminology

Anatomy/Physiology

Community Pharmacy Software

Pharmacology

Pharmacy Calculations

Pharmacy Practice

Professional Development
After completing the classroom instruction, students will complete a 130-hour internship at one of our current clinical partner sites. 
Catholic Health 
CVS Pharmacy
Discount Pharmacy
Erie County Medical Center
Jericho Road Community Health Center
Kaleida Health
Neighborhood Health Center
Parker Pharmacy
Parkview Health Services
Roswell Park Comprehensive Cancer Center
Union Medical Pharmacy
Upstate Pharmacy
Walgreens Pharmacy
Wegmans Pharmacy
Woodmark Pharmacy
Where do Pharmacy Technicians work?
Hospitals

Long-term care pharmacies

Retail chains

Independent community pharmacies

Compounding pharmacies

Mail-order pharmacies

Home infusion pharmacies

Insurance companies

Specialty pharmacies
Program information.
We offer the BCAT's Pharmacy Technician -Entry Level Program twice a year. Within 6 months, you are ready to start a new career.
Fill Out the Pre-Registration Form
and/or Apply In Person at 1221 Main Street
Monday-Thursday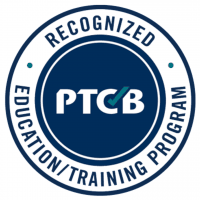 We are partnering with PioneerRx to provide the best pharmacy software for our Pharmacy Technician training program. PioneerRx provides a true pharmacy workflow experience for our students with features and capabilities that are current with the industry's constant innovation. The service is provided at no cost to our students to assist with real-world pharmacy practices. Learn more about PioneerRx's pharmacy computer software at https://www.pioneerrx.com/.  To see how PioneerRx compares to other software providers, visit http://www.pharmacysoftwarereviews.com/.