In collaboration with Buffalo Olmsted Parks Conservancy (BOPC), and generously funded by KeyBank in partnership with the First Niagara Foundation, BCAT will offer our second year of study for adults residing in the city of Buffalo.
The Landscape Maintenance Technician program offers classroom instruction, in-field training, and a paid internship program at BOPC's urban park system that consists of 850 acres of beautifully designed parks, parkways and circles.
The 120-hour course will include 60 hours of in-class instruction offered at BCAT, followed by 60 hours of in-field training and a paid internship.
15 spots are available with full scholarship for students
Adults who are accepted into the program will receive a scholarship that will cover 100% of the tuition, books, and workbooks.
Landscape Maintenance Technician Curriculum
Classes begin January 11, 2022 and are held on Tuesdays and Thursdays from 3:30-6:30 pm at 1221 Main St, Buffalo, NY 14209.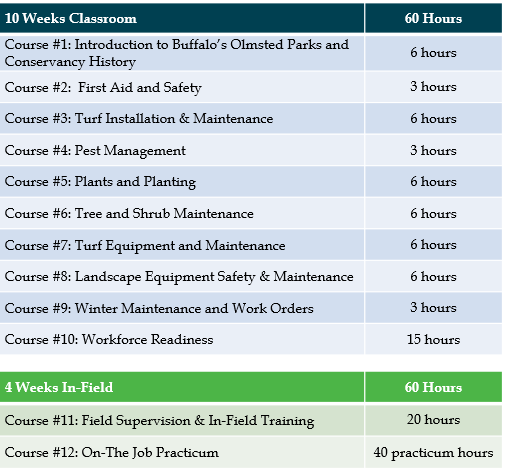 Landscape Maintenance Technician In-Field Placement
March 29-April 8, 2021 on Tuesdays and Thursdays from 9-2:00 pm.
April 12-22, 2021 Monday -Thursday 9-2:00 pm.
Focused on Landscape Maintenance Technician Work Areas and Skills including:
General Routine Maintenance – Park upkeep and debris pickup, park surveillance and vandalism management; Safety, first aid, playground and park amenity inspection
Turf Maintenance – Mower operation in a landscape setting, with weedwacker and other small machinery operations, plus recreational field support
Garden and Bed Maintenance – Seasonal garden maintenance, watering and mulching, with plant and weed identification, planting and weeding techniques
Tree Care Maintenance – Tree planting, chainsaw safety, and limb and stump removal/cleanup
Horticulture / Greenhouse Growing – Annual seed propagation, transplanting, growing and care, and compost production
Equipment Maintenance – General tool and equipment maintenance and fueling, equipment cleaning and storage, and park vehicle inspection protocols
Work Order and Volunteer Management – Supervision and oversight of volunteer groups, with volunteer safety, health and covid policies