In collaboration with Buffalo Olmsted Parks Conservancy (BOPC), and generously funded by KeyBank in partnership with the First Niagara Foundation, BCAT will offer a new course of study for adults residing in the city of Buffalo.
The Landscape Maintenance Technician  program is designed to offer classroom instruction, in-field training, and a paid internship program serving BOPC's urban park system that consists of 850 acres of beautifully designed parks, parkways and Circles.
The 120-hour course will include instruction offered at BCAT, followed by in-field training and a paid internship.
15 spots are available with full scholarship for students
With 15 spots available in the first class.  Adults who are accepted into the program will receive a scholarship that will cover 100% of the tuition including books.
 Landscape Maintenance Technician Curriculum
Classes begin January 12, 2021 and are held on Tuesdays and Thursdays from 3:30-6:30 pm.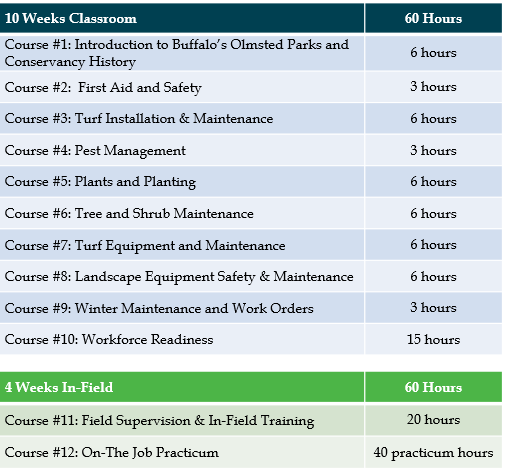 Landscape Maintenance Technician In-Field Placement
March 29-April 8, 2021 on Tuesdays and Thursdays from 9-2:00 pm.
April 12-22, 2021 Monday -Thursday 9-2:00 pm.
Focused on Landscape Maintenance Technician Work Areas and Skills including:
General Routine Maintenance – Park upkeep and debris pickup, park surveillance and vandalism management; Safety, first aid, playground and park amenity inspection
Turf Maintenance – Mower operation in a landscape setting, with weedwacker and other small machinery operations, plus recreational field support
Garden and Bed Maintenance – Seasonal garden maintenance, watering and mulching, with plant and weed identification, planting and weeding techniques
Tree Care Maintenance – Tree planting, chainsaw safety, and limb and stump removal/cleanup
Horticulture / Greenhouse Growing – Annual seed propagation, transplanting, growing and care, and compost production
Equipment Maintenance – General tool and equipment maintenance and fueling, equipment cleaning and storage, and park vehicle inspection protocols
Work Order and Volunteer Management – Supervision and oversight of volunteer groups, with volunteer safety, health and covid policies