"Responding to Now: Felice Koenig"
Invest in Art, Invest in BCAT
On Friday December 10 at 5:30 p.m., the "Responding to Now" paintings will be available through a special art lottery fundraiser to benefit BCAT. Tickets to the Lottery are $275 and include admission for two. The event will provide an opportunity to safely gather with friends and colleagues.
Click the button below to purchase tickets and learn how you can attend virtually.
Vaccination and masks are required for event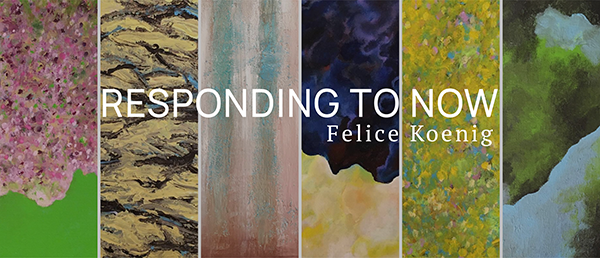 About Felice Koenig: Stuck at home, away from art exhibitions, her students and classroom, Koenig embarked on a new project. The "Now" paintings began as a response to the existential crisis that has been consuming us all. Koenig structured her practice so each of the paintings is done in one session, which can stretch on for hours. She considers these works in varying ranges of textures, colors, and sheens, as meditative responses to the existential crisis that has been consuming us all – Covid, social unrest, political strife, and environmental crises on multiple fronts. Within this structure she meditates/prays and paints, and if her mind wanders she brings it back to the now of this particular session of painting. These works are filled with our collective emotions-fear, anxiety, hope, and resilience. 
The "Responding to Now" exhibition will run from December 3, 2021 to January 14, 2022.
Watch the brief video below to learn more about BCAT's collaboration with Felice Koenig
Art Heals Nature Initiative
Environmental decline is present and the effects of climate change are abundant – so artists stepped in to do something about it. Art Heals Nature Initiative is a project created in BCAT's 2021 summer intensive Youth Arts program. Through the lens of art and technology, BCAT youth engaged in fantastical and critical ways to portray the problems and the possible solutions for environmental degradation. Through this project, youth applied their talents, imagination and use of multi-media to create stories and playful artworks that bring possibilities to the question: what do we do next?
The Art Heals Nature Initiative is now on exhibition with its accompanying digital publication. Join us for the opening reception and launch of this one-of-a-kind project on October 1st from 5-7pm.