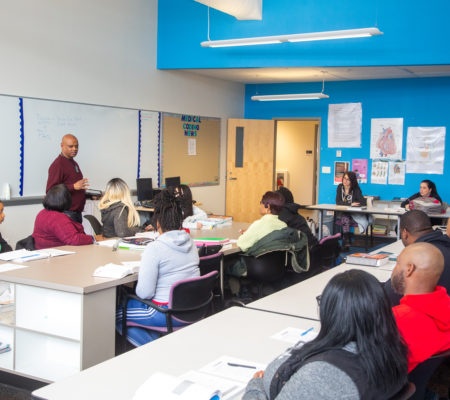 Buffalo Center For Arts and Technology's (BCAT) Adult Workforce Program is provided at no cost to underemployed and unemployed adults.
Each year, we are able to accept a limited number of students for enrollment in our scholarship-based adult workforce development programs, which include Medical Coder and Health Information Professional and Pharmacy Technician. Each student will acquire the educational training and support needed to secure employment upon program completion.
BCAT is a New York State Education Department-licensed program, and the curriculum has been reviewed and approved by the administrators of Erie County Medical Center; Kaleida Health; Roswell Park Cancer Institute and Catholic Health Systems.
The Medical Coder and Health Information Professional and Pharmacy Technician Programs are open to adults ages 21 and older who possess a high school diploma, or a high school equivalency diploma.
To learn more about our Adult Workforce training, call 716-259-1680 x104.
To apply for either program, interested adults must submit the following pre-application information via email.
Send this information via email to :
Name
Address
City/State/Zip
Date of Birth
Telephone/Mobile phone numbers
Email address
What is your Program of Interest: Medical Coding and Health Information Professional or Pharmacy Technician
How did you find out about us? Please be specific
Students enrolled in BCAT's Adult Workforce Program must exhibit appropriate attendance (Monday-Friday, 9:00 a.m. to 3:00 p.m.) as well as appropriate workplace behavior, attire and communication skills.
---
Program Schedule:
Monday-Friday, 9:00 am-3:00 pm
Program Application Requirements and Process
All steps must be completed, preferably, in this order:
Step 1: Fill out an Enrollment Application
Step 2: Prescreening
Step 3: Take the Placement Test (GAIN)
Step 4: Copy of high school diploma, HSE or transcript
Step 5: Submit a letter of intent
Step 6: Face-to-face interview
What to expect next:
All initial communication will take place via email only.
When enrollment opens, we may contact you via email to schedule a day and time for you to visit the center and start the enrollment process or you may simply WALK-IN to start the process which is preferred.
We may schedule a day and time for you to take the 2-hour GAIN Placement test. However, most applicants are expected to take the Placement Test at the time of submitting their application. This test simply measures your reading, writing, comprehension and math skills at the 10th-12th-grade levels.
Program enrollment timeframe (dependent on enrollment):
January start – Medical Coding and Health Information Professional class
January start – Landscape Maintenance Technician class
May start – Medical Billing and Insurance class
June-July start – Pharmacy Technician class
We encourage candidates to research their program of interest prior to visiting us.
NOTICE OF NONDISCRIMINATORY POLICY FOR STUDENTS:
THE BUFFALO ARTS AND TECHNOLOGY CENTER, INC. ADMITS STUDENTS OF ANY RACE, COLOR AND NATIONAL AND ETHNIC ORIGIN TO ALL THE RIGHTS, PRIVILEGES, PROGRAMS AND ACTIVITIES GENERALLY ACCORDED OR MADE AVAILABLE TO STUDENTS AT THE SCHOOL. IT DOES NOT DISCRIMINATE ON THE BASIS OF RACE, COLOR OR NATIONAL AND ETHNIC ORIGIN IN ADMINISTRATION OF ITS EDUCATIONAL POLICIES, ADMISSIONS POLICIES, SCHOLARSHIP AND LOAN PROGRAMS, AND ATHLETIC AND OTHER SCHOOL-ADMINISTERED PROGRAMS
<!– Global site tag (gtag.js) – Google Analytics –>
<script async src="https://www.googletagmanager.com/gtag/js?id=UA-148045615-1″></script>
<script>
window.dataLayer = window.dataLayer || [];
function gtag(){dataLayer.push(arguments);}
gtag('js', new Date());
gtag('config', 'UA-148045615-1');
</script>